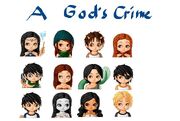 A God's Crime: Discovery and Hidden (DONE!!)
A God's Crime: Found and New (DONE!!)
A God's Crime: A Choice of the Titan God (DONE!!)
Other Stories (Specials)
A God's Crime: The Real Story (Not started)
Sequel
A sequel to the series has been announced, A God's Secret. It can be found here.
Picture
Aella- Bored, messing around with her powers
Leah- Smiling that her friend is back
Tarm- Looking shocked
Calypso- Smiling that she and Aella are finally free (Well almost, Aella has a debt to pay...)
Hermes- Talking on his cell phone
Artemis- Smiling at her daughter
Triton- Angry at Artemis and his daughter, Aella
Ethan- Looking upset and confused
Percy- Looking... Percy
Bianca- Looking at Zoe
Zoe- Looking over at Bianca and trying to decide about Aella being Artemis' daughter
Luke- Angry at Hermes and Aella for being a traitor to the titans (Kronos in this picture)
Ad blocker interference detected!
Wikia is a free-to-use site that makes money from advertising. We have a modified experience for viewers using ad blockers

Wikia is not accessible if you've made further modifications. Remove the custom ad blocker rule(s) and the page will load as expected.