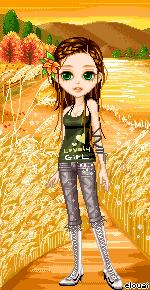 Alexis Jocelyn Januson (born May 18, 1997) is an unclaimed demigod.
Alexis is and has been Muse's best friend since grade one.
She is seen trying to get Sam and Muse to kiss.
Appearance.
Alexis is a pretty girl with medium brown hair, tanned skin, and green eyes. When she was younger, her hair was blonde to dirty blonde, dulling itself into brown by age thirteen. She is a thin lithe girl who likes to dress in more girly things than her friend. She is 5'6 and weighs 124 lbs.
Personality.
Alexis is a sweet and kind girl with a lovely smile. She is fairly smart but isn't able to show it at school. She can be mean and a little volatile, like Muse, but is overall a little more toned down. She is quite shy but very flirty. She is scared easily and has pyrophobia. Like a normal demigod, she has dyslexia and ADHD, causing her to talk and pass notes in class. She is also a bit rude to her elders and her equals.
Known Family.
Trivia.
/Nerd starts here/ When Thinkaboutthisname first created Alexis, she didn't know about the Alexis in Transformers Armada. She was not purposely named Alexis to add lulz. /Nerd ends here/
Alexis's middle name, Jocelyn, is after a girl that is helping TATN a lot.
Ad blocker interference detected!
Wikia is a free-to-use site that makes money from advertising. We have a modified experience for viewers using ad blockers

Wikia is not accessible if you've made further modifications. Remove the custom ad blocker rule(s) and the page will load as expected.