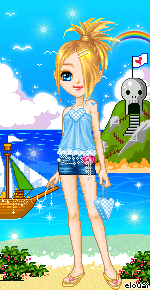 Allison 'Ally' Lucy Victor (born January 29 1998) is a demigod daughter of Hermes.
Ally is mentioned in the first chapter and then comes in by the end. It is also mentioned that she went by her middle name, Lucy.
Appearance.
Allison is your typical child of Hermes when it comes to appearance. She has pale skin and blonde hair. Her eyes are icy blue. She is often caught wearing stolen make-up or normal make-up.
Personality.
Kleptomaniac. That is one of the words you can describe Ally with. She loves to and often steals. She can be fairly energetic and patient. She can be fairly bossy and grumpy at times but is overall really nice and optimistic.
Known Family.
Trivia.
Ally is based off the OC of Sparrowsong's Jane Lefevre who was the mother of Maria in the original Life as a Single Dad.
Ad blocker interference detected!
Wikia is a free-to-use site that makes money from advertising. We have a modified experience for viewers using ad blockers

Wikia is not accessible if you've made further modifications. Remove the custom ad blocker rule(s) and the page will load as expected.