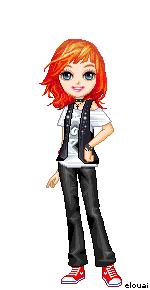 Altera is the Daughter of Athena and Apollo

Apperance
Altera has Fire like Red hair and Stormy grey eye's She said to be about 5'8.
Personality
Altera is Very much like her Mother and Father. She is very good drawer and singer

, She is very smart always has a plan B and great archer. Her aunt Artemis wanted her to be a Huntress but Apollo did'nt.
Theme song
Stronger by Kanye west
Known Family
Apollo (Father)
Athena (Mother)
Artemis (Aunt)
Ad blocker interference detected!
Wikia is a free-to-use site that makes money from advertising. We have a modified experience for viewers using ad blockers

Wikia is not accessible if you've made further modifications. Remove the custom ad blocker rule(s) and the page will load as expected.