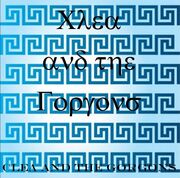 Clea (pronounced KLAY-ah) seems like a normal 15yo girl but she has a secret, Her mother is an olympian. No, not like the sports olympian, like a greek goddess, specifically the greek goddess Persephone. And whats best, she spend. year round at a place called Camp Half-Blood. Where she trains to fight mansters with other kids just like her. Seems cool right? Problem is, the monsters are real and they bring lot's and lot's of danger.
Characters




Chapters
Clea and the Gorgons- Chapter One
Ad blocker interference detected!
Wikia is a free-to-use site that makes money from advertising. We have a modified experience for viewers using ad blockers

Wikia is not accessible if you've made further modifications. Remove the custom ad blocker rule(s) and the page will load as expected.