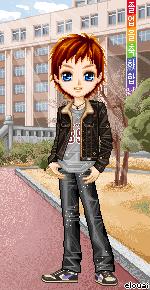 Colin Trevor Stoll Osten (born December 1, 2010) is the quarter blood son of Travis Stoll and Leah Osten.
Colin appears only once, when he is born in chapter seven.
Appearance.
All through his life it has been noted the great resemblance he bears to his mother. He has her auburn hair and gets his darker blue eyes from her two. He is only pale like his father and has his father's eye shape and forehead.
Personality.
Not much is yet known about Colin although Thinkaboutthisname thinks that he would be mischievous and kind, but also manipulative. He can be clever and smart and a bother at times. He has a soft side, seeing as he never knew his mother.
Known Family.
Leah Osten, Mother Deceased.
Travis Stoll, Father.
Connor Stoll, Uncle.
Hermes, Paternal Granddad.
Mrs Stoll, Paternal Grandma.
Hades, Maternal Granddad.
Jenna Osten, Maternal Grandma.
Shawn Osten, Uncle.
Melissa Osten, Aunt.
Nico di Angelo, Uncle.
Bianca di Angelo, Aunt, deceased.
Luke Castellan, Uncle, deceased.
Any other child of Hermes or Hades, Uncle/Aunt.
Trivia.
Colin's middle name, Trevor, is the name of a really cute boy TATN used to know.
I do not own the baby (picturey picture one) image and never will.
Ad blocker interference detected!
Wikia is a free-to-use site that makes money from advertising. We have a modified experience for viewers using ad blockers

Wikia is not accessible if you've made further modifications. Remove the custom ad blocker rule(s) and the page will load as expected.