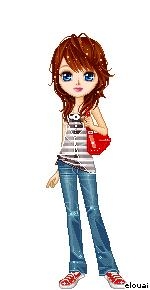 Destiny Hope Clave (born January 30, 1994) is currently an unclaimed demigod.
Personality
Destiny is a dare devil. She takes chances. Chances that people with any normal sense, would not take. She is very outgoing. She is a prankster.
Fatal Flaws
Dare devil taken to the extreme
Known Family
Alexander Clave, possible father, possible step-father
Mary-Anne Clave, possible mother, possible step-mother
Holly Clave, half-sister
James Clave, half-brother
Trivia
Destiny has had her head stuck in the railing.
She has broken all her limbs.
She's burned off one of her eyebrows.
She has played every trick in the book.
Ad blocker interference detected!
Wikia is a free-to-use site that makes money from advertising. We have a modified experience for viewers using ad blockers

Wikia is not accessible if you've made further modifications. Remove the custom ad blocker rule(s) and the page will load as expected.