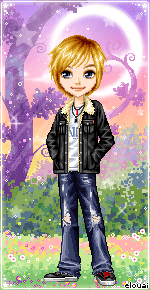 Eddie's a fictional chararcter on Prim's adventure.
HISTORY:
Born at sunrise on the first day of spring. He started school at age of 3. He started archery at the age of 5. Before his 7th brithday,he attacked the Minatour. When he was 9 he sang Jonas Brother's Year 3000 at a park & was made fun of. When he was 10 he played Party in the USA on the drums.
PRIM'S ADVENTURE:
MY JOUNREY:
TRUTH OR DARE OR OLYMPUS!:
REVENGE OF THE TITANS:
THE BATTLE OF CALIFORNIA:
Eddie was kidnapped by Chimera on chapter 1.
THE FINAL WAR W/ THE TITANS:
REALITIONSHIPS:
Prim(Crush & girlfriend):
He kind of liked her after he saved her from the Mintour. He kissed her & become a couple
Mrs.Tyson(mom):
She rised Eddie. She always call him Edwardson,which his oraingial name.
Appearance:
He's a good looking guy like his dad,Apollo. He has his Apollo's blonde hair & he mom's violet eyes.
Personality:
He's cool,outgoing,strong,brave,fearless,laid back & smart.
Travia:
Eddie's real name is Edwardson.
His theme song is All time low by The wanted
Ad blocker interference detected!
Wikia is a free-to-use site that makes money from advertising. We have a modified experience for viewers using ad blockers

Wikia is not accessible if you've made further modifications. Remove the custom ad blocker rule(s) and the page will load as expected.