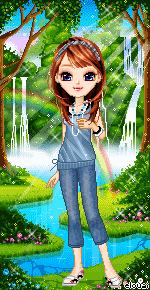 Eliza Hilden is a demigod.

Eliza did not know that she was a demigod until very late. She was never very athletic. She was on her school golf team, then the tennis team, and then the track team. She saw some monsters, but none bothered her until her mother married Mr. Cole, a single man with a young daughter, who was also a demigod.
Her stepfather's daughter was a child of Athena. The monsters started following them. So Eliza and her step-sister Natalie escaped to camp. Natalie was eleven and Eliza was fifteen. Quite a bit later, (2 years later when she was 17) she was claimed by Apollo.
| Name | Eliza Hilden |
| --- | --- |
| Cabin | Apollo, 7 |
| Weapon of Choice | bow and arrows |
| Hair Colour | brown/auburn |
| Eye Colour | brown |
Ad blocker interference detected!
Wikia is a free-to-use site that makes money from advertising. We have a modified experience for viewers using ad blockers

Wikia is not accessible if you've made further modifications. Remove the custom ad blocker rule(s) and the page will load as expected.