� Elizabeth "Lizzie" Thalia Castellan is the quater blood daughter of Luke Castellan and Thalia Grace-Cast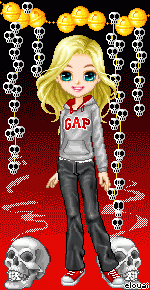 ella
.
Appearance
Elizabeth has Lukes pale blonde hair and Thalias electric blue eyes. She is 5'4 and weighs 84 lbs.
Personality
Elizabeth is stuborn and bubbly. She is very talktive and gets angry easyliy.
Theme Song
One-X by Three Days Grace
Known Family
Roxanne Jackson (Cousin)
Katie Jackson (Cousin)
Luke Castellan (Father)
Thalia Grace-Castelan (Mother)
Hermes (Grandpa)
Zeus (Grandpa)
Ad blocker interference detected!
Wikia is a free-to-use site that makes money from advertising. We have a modified experience for viewers using ad blockers

Wikia is not accessible if you've made further modifications. Remove the custom ad blocker rule(s) and the page will load as expected.