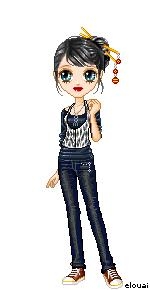 Elizabeth Naomi Small (born October 23, 1996) is a demigod daughter of Hades.
Personality
Elizabeth is very independent and would rather stay home and watch TV than go to a party or something. She's rather go as Liz or Lizzy than Elizabeth or Eliza.Her favourite colours are black, navy blue, and green.
Lizzy's story.
Known Family
Beth Small, mother
Sarah Small, half-sister
Hades, father
Nico di Angelo, half-brother
all children of Hades, half-siblings
Ad blocker interference detected!
Wikia is a free-to-use site that makes money from advertising. We have a modified experience for viewers using ad blockers

Wikia is not accessible if you've made further modifications. Remove the custom ad blocker rule(s) and the page will load as expected.