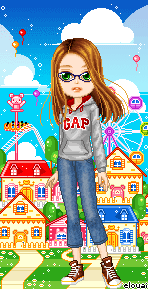 Elle Sabrina Becker is a demigod. She has mouse-brown hair and hazel-green eyes. She went to school with Percy Jackson. She is 14 and has a crush on Connor Stoll as of Moonlight. She is the center of the love triangle between Travis, Connor, and her, and some part of her likes Percy.
Known Family
-Drew Becker (father)
-Aphrodite (mother)
-Other daughters of Aphrodite (half-sisters)
-Jenna Becker (daughter)
-Spinner Becker (cousin)
Other
themesong:can't be tamed by miley cyrus She theme song is Suddenly by Superchick
Ad blocker interference detected!
Wikia is a free-to-use site that makes money from advertising. We have a modified experience for viewers using ad blockers

Wikia is not accessible if you've made further modifications. Remove the custom ad blocker rule(s) and the page will load as expected.