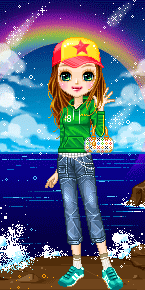 Harmony Jade Jackson (born November 28, 2006) is the quarter-blood daughter of Percy Jackson and Annabeth Jackson (nee Chase).
Harmony is introduced in the first chapter. She and Gabriella are fast friends, though they don't have much in common.
Appearance
Harmony is 3'8 tall and she weighs 3'8 lbs. Her skin is Caucasian, but not incredibly pale like Gabriella's. She has Percy's green eyes, but the light brown hair of her grandmother, Sally Blofis (nee Jackson).
Personality
Harmony is smart, friendly, kind, easily impressed, and a bit gullible at times. She is terrified of bugs of any kind, not just spiders,her personality is just like her mother Annabeth Jackson/Chase. She is clumsy and can be a bit slobby, like her half Uncle Tyson. Like Gabriella, her personality is still being tweaked.
Ad blocker interference detected!
Wikia is a free-to-use site that makes money from advertising. We have a modified experience for viewers using ad blockers

Wikia is not accessible if you've made further modifications. Remove the custom ad blocker rule(s) and the page will load as expected.