Henri Benjamin Alberts (born March 19th, 1994) is a demigod child of Zeus.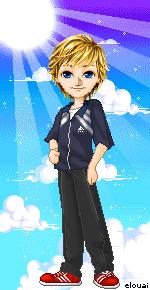 He falls in love with Grace Candler and consults his twin Bleu. They swap identities.
Bio
He really, really isn't lucky. It's earned him the description of 'The Unlucky Zeus Kid'. He's kind and passionate, but a bit clumsy. His brother Bleu always helps him, though.
He has longish blonde hair, blue-grey eyes, and pale skin. He is 5'10 and weighs 134 lbs.
Theme Songs
Freefalling by Tom Petty
High School Never Ends by Bowling for Soup
Powers
Can create hurricanes
Controls lightning
Controls electricity
Family
Ad blocker interference detected!
Wikia is a free-to-use site that makes money from advertising. We have a modified experience for viewers using ad blockers

Wikia is not accessible if you've made further modifications. Remove the custom ad blocker rule(s) and the page will load as expected.