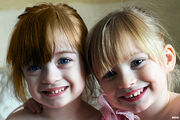 Kaitlyn Cameron Right (born February 17, 1993) is a demigod daughter of Aphrodite.
The End Of The Rainbow
Unwritten.
Journey to the end of the rainbow. There is no pot of gold. XD
Personality
Kaitlyn is flirty (being a daughter of Aphrodite). She likes short shirts. She's stubbon. She's very sarcastic
Known Family
Aphrodite, mother
Derek Right, father
Fawn Right, step-mother
Deven Right, twin sister
Silena Beauregard, deceassed half-sister
Hephaestus, step-father
Ares, step-father
Other children of Aphrodite, half-siblings
Trivia
Kaitlyn is 17 and has had over twenty-five boyfriends
She lives in Seattle
She has been in six diffrenet movies
Ad blocker interference detected!
Wikia is a free-to-use site that makes money from advertising. We have a modified experience for viewers using ad blockers

Wikia is not accessible if you've made further modifications. Remove the custom ad blocker rule(s) and the page will load as expected.