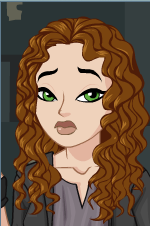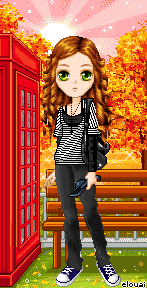 Katherine "Kate" Teresa Jean Song (born June 18, 1997) is a twelve-year-old (almost thirteen) demigod daughter of Apollo.
Kate is the main character. She is a daughter of Apollo with no self-esteem.
She has a nightmare about a Great White Shark.
Appearance
Kate is 5'2 and weighs 116 lbs. She is what some might call "busty" and often wonders if she is overweight. She has extremely pale skin, too many freckles to count, wavy bronze hair with blonde highlights almost to her waist, and rare amber eyes with bits of green, grey, and hazel. Kate has a large, crooked nose, a trait from her mother. She is Irish and definitely looks like it. She has bad acne, particularly on her forehead. Even though she is only twelve going on thirteen, she could pass for sixteen or even seventeen.
Personality
Kate is creative, shy, funny, emo, sly, lazy, and a writer. Her favorite colors are black and ice-blue. She is a tomboy. Most of the time, Kate feels more like a twenty-five-year-old woman in a teenager's body. She can be very mean and tough, but it's because she's emotionally disturbed. She likes to swear. She has ADD and OCD, but not dyslexia.
Known Family
Kelli Song (Mother)
Apollo (Father)
Mike Song (Stepfather)
Ethan Song (Half-brother)
Other children of Apollo (Half-siblings)
Thalia Ritten (Sister in a past life)
Trivia
She is a self-insertion.
Her theme songs are Does Anybody Hear Her by Casting Crowns and Viva La Gloria (Little Girl) by Green Day.
Her quiz: click here.
Ad blocker interference detected!
Wikia is a free-to-use site that makes money from advertising. We have a modified experience for viewers using ad blockers

Wikia is not accessible if you've made further modifications. Remove the custom ad blocker rule(s) and the page will load as expected.