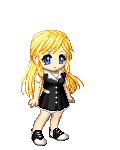 Kelcee Spens

"Yeah, I'm a mortal... So?"
Title
Mortal
Clear Sighted
Vital Statistics
Date of Birth
unknown
Current age
13
Gender
female
Family
unknown mortal (all family)
Status
alive
Eye Color
blue
Hair Color
blond
Height
5'1
Alias
Little Miss Artist
Other
Affiliation
New Aegens
Weapons
mind, sword
Species
mortal
Home
New Aegens
Appearances
none
Quests
none
Kelcee Spens is a clear-sighted mortal
History
Kelcee was treasured by her parents, but she saw things that scared her a lot. It started when she went to the Zoo with her dad when she was four. In the lion cage, she saw the Chimera among them. She was terrified and convinced her dad to bring her home. She always got terrified when she saw something unusual. She met Loria, daughter of Apollo, and she brought Kelcee to CHB. Chiron let her stay there. She got a sword from the armory and made lots of demigod friends.
Appearance
Kelcee has blond hair and blue eyes. She has fair skin.
Personality
Kelcee is very creative and artistic. She was labeled as her the Artist in her class. She survives the bullies that every school has.
Ad blocker interference detected!
Wikia is a free-to-use site that makes money from advertising. We have a modified experience for viewers using ad blockers

Wikia is not accessible if you've made further modifications. Remove the custom ad blocker rule(s) and the page will load as expected.