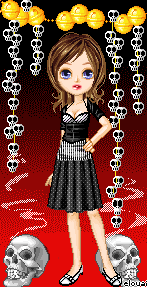 Kennedy Dorothy Scott (born June 10, 1993) is a twelve-year-old demigod (her story is set in 2005). She is currently unclaimed.
Kennedy was conceived in a one-night stand and put up for adoption. She is born in the prologue.
Appearance
Kennedy is 5'4 and weighs 121 lbs. She has pale skin, blue eyes, and straight shoulder-length brown hair with blonde and red highlights. She has a large forehead, some acne, and is busty for her age.
Personality
Kennedy is a bit emo. She isn't exactly depressed, but she loves black, eyeliner, and bands like Evanescene and My Chemical Romance. She is very tough, though she definitely has a nice side. She is lazy, proud, and sometimes arrogant. Kennedy is very serious, having little to no sense of humor. She doesn't have much of a social life and doesn't want one. Her favorite animal is the peacock.
Known Family
Marie Scott (Mother)
Eric Scott (Father)
Unnamed goddess (Biological mother)
Matt (Biological father, surname unknown)
Trivia
Though she's not a self-insertion, her personality is very similar to her creator's.
Ad blocker interference detected!
Wikia is a free-to-use site that makes money from advertising. We have a modified experience for viewers using ad blockers

Wikia is not accessible if you've made further modifications. Remove the custom ad blocker rule(s) and the page will load as expected.