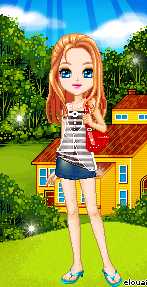 Kristen Sylvia Dare is the thirteen-year-old demimortal daughter of Rachel Elizabeth Dare and Luke Castellan.
As a baby, Kristen was put up for adoption. She never knew her birth family.
When she was eleven years old, she went to live at Camp Half-Blood, since her foster parents were drug addicts. She's been a year-round camper ever since.
Kristen goes to Rachel's house and finds out the shocking truth about her parentage.
Appearance
Kristen is 5'3 tall and weighs 119 lbs. She looks more like Luke than Rachel. She has very pale skin, piercing blue eyes, and strawberry blonde hair. She gets Luke's features, except with Rachel's nose.
Personality
Kristen is sporty and rebellious, her purse being the most girly thing she'll touch. She is sarcastic, sometimes grouchy, and sometimes mischevious. She had ADHD and minor dyslexia. Overall, Kristen is more like her father, inside and out.
Known Family
Rachel Dare (Mother)
Luke Castellan (Father, deceased)
Mr. Dare (Maternal grandfather)
May Castellan (Paternal grandmother, most likely deceased)
Hermes (Paternal grandfather)
Travis Stoll, Connor Stoll (Uncles)
Other children of Hermes (Aunts and uncles)
Ad blocker interference detected!
Wikia is a free-to-use site that makes money from advertising. We have a modified experience for viewers using ad blockers

Wikia is not accessible if you've made further modifications. Remove the custom ad blocker rule(s) and the page will load as expected.