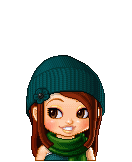 Leah Carter is a daughter of Demeter and
Aella
's best mortal/demigod friend.
Appearence
Leah has brown/hazel eyes.
She is introduced as Aella's friend, and is curious about what she's hiding.
She goes on a quest with Aella and Mark, a son of Hermes, to the Princess Andromeda. There, Aella's true identity is discovered, and she is the one who gets to tell camp, for Mark was killed. At the end, she is the one to discover Aella leaving after losing her immortality.
At the beginning, she wishes she had convinced Aella to stay. She is not seen until the end, where she is injured and almost killed by an enemy demigod, but is saved by Katie Gardner. Then, they are attacked by Aella, and, just before she is hit with a piece of glass, Aella uses her powers to protect her, and it shows that she still cares about some of the dmeigods she left behind.
At the end, it is said that she is ok and that she and Aella are friends again.
Trivia
Leah is the name of one of Hazelcat's friends.
Ad blocker interference detected!
Wikia is a free-to-use site that makes money from advertising. We have a modified experience for viewers using ad blockers

Wikia is not accessible if you've made further modifications. Remove the custom ad blocker rule(s) and the page will load as expected.