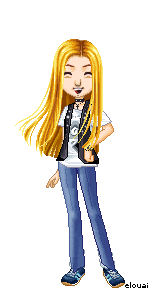 Rho Cooper is the 13-year old daughter of Khaos.
History
She is on the Princess Andromeda with her brothers and is very gruff.
Appearance
She has long blond hair and is tall for her age.
Personality
She is outgoing and depressing when she wants to be. She often laughs at other people's problems, which she likes to cause.
Known Family
Father: Khaos
Brothers: Beta Cooper, Kappa Cooper
Ad blocker interference detected!
Wikia is a free-to-use site that makes money from advertising. We have a modified experience for viewers using ad blockers

Wikia is not accessible if you've made further modifications. Remove the custom ad blocker rule(s) and the page will load as expected.