Everyone knows about Zoe Nightshade. Well, she was reborn thrice. As . . .
Sarah Roberts|Olivia Newten|Nellie Martin
Sarah Roberts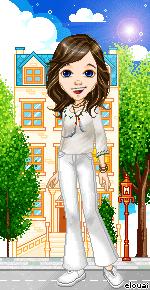 Sarah Jenna Roberts was born on March 6, 2010.
| | |
| --- | --- |
| Cabin: | Morpheus |
| Weapen of Choice: | Her two hunting knives; Farenheit, blessed by Artemis can put people to sleep. Unifier, blessed by Athena can awaken. Both can wound. |
| Age: | 12 |
| Hair Coler: | Brown |
| Eye Coler: | Being a daughter of Morpheus it varies |
| Height: | 3'9 |
| Birthday: | March 6, 2010 |
Sarah's Stories
Sarah is brought to Camp Half Blood. She is the main character. She musrt go on a quest . . .
Future Stories
Sarah will probably be featured in OC's Together 3 and has signed up for a sequel to Reborn.
Sarah's Personality
Sarah is very sweet, her fatal flaw. Even though she will hurt monsters, and sometimes demigods, she will only kill monsters or evil people.
Sarah is surprised she can do arachery so well, one of Zoe's traits.
Sarah's Known Family
Morpheus- father
Elinor Roberts- mother
Ad blocker interference detected!
Wikia is a free-to-use site that makes money from advertising. We have a modified experience for viewers using ad blockers

Wikia is not accessible if you've made further modifications. Remove the custom ad blocker rule(s) and the page will load as expected.