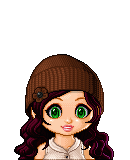 Shannon Debra Johnson (Born October 15, 1996) is currently an unclaimed demigod.
Shannon is Noële's best friend.
Personality
Shannon is really big into clothes and makes a bunch of her own. She's got a great sense of humor. She's pretty sassy sometimes.
Known Family
Unknown goddess, mother
Trent Johnson, father
Tiffany Johnson, younger sister.
Trivia
Shannon is based on my cousin (whose name is also Shannon and is going to school to be a fashion designer)
Ad blocker interference detected!
Wikia is a free-to-use site that makes money from advertising. We have a modified experience for viewers using ad blockers

Wikia is not accessible if you've made further modifications. Remove the custom ad blocker rule(s) and the page will load as expected.