"He's predicted that Rome will meet its downfall, and that I will be a part of it."
To Kidnap a King is an Original Story. It is set in Ancient Greece and Rome, a war has been going on for centuries, even the oldest cannot remember the true reason why it started.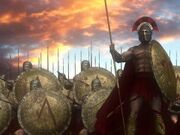 But when the Greeks finally decided that it is time to do something they send in someone who has to do the job. But when you are hiding a false identity and your task is to kidnap the praetor of Rome and bring him back to the home you haven't been to in months, its going to be hard. The People needed to be saved, this time it wasn't a war with demigods versus monsters, it was demigod versus demigod. How could you win when you were battling against people of the same birthright as you, but with the one who washes all pain away on the Greeks side, could the war that had seemed to last forever finally be over?
Chapters
Chapter 1: To Help an Escape
Chapter 2: Good Evening Praetor
Chapter 3: Back to Home
Chapter 4: A Little Pain Couldn't Hurt
Chapter 5: She Who Washes Away Pain
Chapter 6: Meeting a Relative
Chapter 7: A War Council
Chapter 8: Tough Choices
Chapter 9: Setting Up Posts
Chapter 10: The Battlefield
Chapter 11: Shaping the Victory
Chapter 12: What's Rightfully Ours
Chapter 13: Final Choices
Spin-Offs
Between the Divide - How Tom and Francesca Meet
Ad blocker interference detected!
Wikia is a free-to-use site that makes money from advertising. We have a modified experience for viewers using ad blockers

Wikia is not accessible if you've made further modifications. Remove the custom ad blocker rule(s) and the page will load as expected.