Wrece Tear


Title
The Demolitions Expert
Vital Statistics
Date of Birth
July 27, 2087
Current age
15
Gender
Male
Family
Father: Hephaestus (God of fire)
Status
Alive
Eye Color
Brown
Hair Color
Dirty Blonde
Height
6 feet
Alias
The Demolitions Expert
Other
Affiliation
The Pegasi Corps London
Weapons
Fire & Explosives
Species
Demigod (Deus Humana)
Home
London
Appearances
The Pegasi Corps: Redemption
Quests
Redemption
Story- (SPOILERS)
To be reaveled soon...
Abilites- (SPOILERS)
To be revealed soon...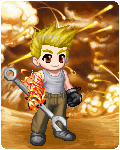 MISC. FACTS ABOUT: Wrece Tear
Blood Type: B+
Companion(s): A stick of dynamite (lol xD)
Fear(s): Failure
Favorite Activities: "Blowin' s**t up!"
Favorite Food(s): Spicy foods
Pegasus: Black pegasus named Corkscrew
Favorite God and/or Goddess: Hephaestus and Hecate
Least Favorite God and/or Goddess: Aphrodite and Pan
Weight: 128 lbs
Appearances
Ad blocker interference detected!
Wikia is a free-to-use site that makes money from advertising. We have a modified experience for viewers using ad blockers

Wikia is not accessible if you've made further modifications. Remove the custom ad blocker rule(s) and the page will load as expected.